Digital Signage: the challenge of digital communication
In a world running towards digital, the need is not to communicate more but to communicate better!
"Today looks to be a busy day. You think about the things you must accomplish as you scroll through the many tasks on your schedule. When you arrive at the office, the screen at the entrance greets you with some world news, the weather, upcoming events... So you take a closer look at that display. And you discover that the visit of an important customer has been brought forward to the morning. Luckily, the same information has already reached your coworkers through the digital board in the coffee room or in the technical department. The rest is business as usual for your marketing department, which will manage the situation. And maybe, you think, it won't be such a busy day."


We briefly introduced a case of a corporate that is already adopting Digital Signage solutions.
But what exactly are we talking about when we say "Digital Signage"?
Basically, it's a matter of touch displays, monitors, totems, interactive boards and their appropriate positioning in the environment, managed by a personalized software which makes everything immediately available. Because everything is in a stage of change today, and so is communication. The focus is on how to get a message across, because if this process is not done properly, the message will never arrive. Channels and tools are chosen differently than in the past and obviously the consumers themselves, all of us, are different.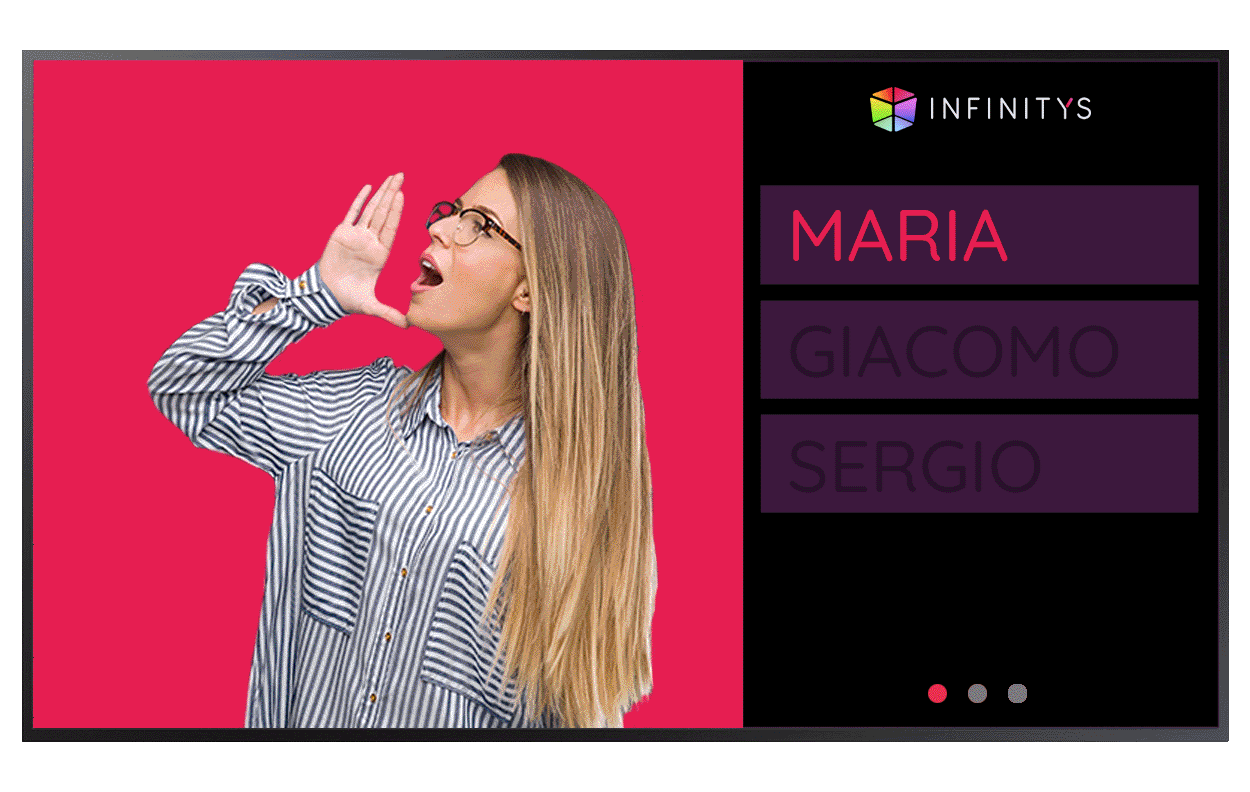 Why and who needs Digital Signage?
But let's not limit ourselves to the example above. Whatever sector a company operates in, from B2B to retail, from public administration to tourism, it is necessary that the contents of interest, information and value reach people directly where they are, whether they are employees, customers or users.
The immediacy, simplicity, and power of messages as well as the instantaneousness of the communication channel are the key points for successfully interacting and stimulating interlocutors. From reception to production departments, Digital Signage solutions allow communication to be taken where it was not possible before.
Digital Signage solutions are therefore a response to the growing need to communicate well and effectively. For this reason, the INFINITYS team of ACS Data Systems, , made of programmers, technicians, and consultants, has been eager to satisfy the requirements of companies for years. The analysis of the starting situation is fundamental to implement the whole ecosystem of solutions, in step with the times, that can meet the customer's needs. The experience of a partner such as ACS helps to define what is really needed, not to just install "monitors" here and there, but to completely integrate a solution which is also easy to manage thanks to ANIMA, an in-house developed software that is a real enabler of communication. It is said that it is the message that counts. But it must be delivered powerfully to its recipient.
---
Article published by Stil'è.
INFINITYS' approach to Digital Signage