The Digital Signage experience for exhibits
Franco Scaramuzza, head of Studio Quoin, tells how Digital Signage is revolutionizing planning and design of spaces and stores.
The revolution in the concept of exhibition areas and places has started: Digital Signage increases the level of interaction with visitors and customers and becomes an interactive tool
In an exclusive interview, Franco Scaramuzza, a leading architect and head of Studio Quoin, tells us how Digital Signage is revolutionizing the idea, planning, design and implementation of spaces and stores.
Today, more than ever, the outcome of an architectural and interior design project depends also, and above all, on the technological solutions integrated in the space itself. Previously an accessory that was "added" afterwards, Digital Signage has now become an integral part of the space right from the design phase. Inserting monitors and lights in an already pre-defined space, as part of the furniture, is an approach that has accompanied the work of designers and architects for years.

The revolution of Digital Signage, with its ability to create new and extraordinary experiences of interaction between spaces and people, has turned on the possibility to conceive projects that integrate and harmonize physical space and digital communication technologies, but at the same time enable natively the customer's content and device management in line with its communication strategy.

A revolution that, in fact, leads more and more managers, entrepreneurs, professionals to request architects and designers to be accompanied to the future. How? By simply thinking of their new store or office in such a way as to represent themselves in the best possible way, but also by giving anyone who walks through the door the opportunity to have access to data, information and "experiences" with unprecedented impact, richness, depth and value.


«Digital Signage is a technology that is becoming more and more widespread in stores and showrooms, profoundly changing their characteristics and considerably enhancing communication with the final customer – says Franco Scaramuzza, architect of excellence and number one of Studio Quoin, a company that has been dealing with integrated engineering in the commercial sector for 16 years. «Digital Signage is a tool like others, perhaps more than others thanks to the possibilities it offers us, which must be integrated into a proper design and must provide services that, from time to time, can be different from the places we design. In fact, this technology gives us the opportunity to create increasingly diverse and attractive solutions. We go from the attraction phase, to the direct and experiential one, to the more creative one, using both passive and interactive tools. I have been in this industry for 30 years and this is definitely a phase where plenty of things are changing».
The automotive "case"
From words to deeds, we asked the architect to tell us about a real case of the application of such a digital revolution in the design of a space. «Obviously – says Scaramuzza – one of the first thoughts comes from the automotive world, a sector in which the experience in the showroom space is decisive and where it is clear that the change will have to follow the concept of individual mobility that will exist in the future. The paths of the generalist segment and the premium/luxury segment will certainly be different. For the latter two, the path marked out is the one we have followed, for example, in BMW's Urban Store in Rome. The purpose was in fact to have less space dedicated to the product and more focus on customers and their needs. In this change, Digital Signage and technology will ensure an important contribution", explains Scaramuzza.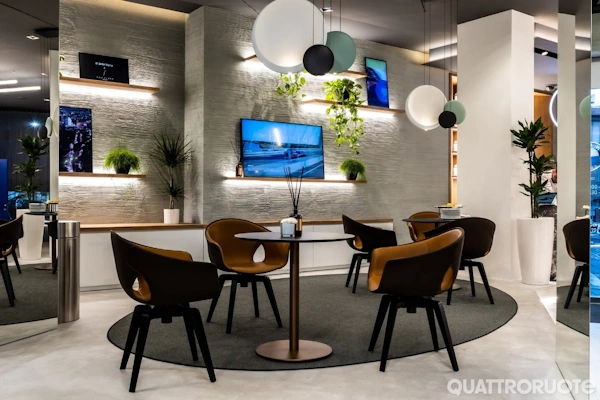 «We are talking about a project which has been ongoing for a few years and which was conceived in a range of different ways from the usual car showroom. In fact, we are talking about a store in the heart of the capital's historic center, where we wanted to express some of the premium principles of the automotive world. It's a formula that has worked very well in recent years and in which BMW has decided to invest again, proposing new models. We are thus moving on from the first version of the Urban Store in Via Barberini, where the focus was on the car product, to a layout that places the customer at the heart of attention. A space that must therefore attract and involve and not only by displaying the product. From this point of view, Digital Signage has given us great support, because we have had a high-level design, which has proved to be remarkably effective in achieving the pre-established targets».


For the realization of these and other Digital Signage projects, architect Scaramuzza and his team could count on a high-level partnership such as that of ACS Data Systems and its brand INFINITYS: «What you expect from suppliers is that they listen to you, that they try to understand what the client's needs are and what we as interior designers have in mind. So it was essential to find someone willing to listen carefully and understand what we really needed. Another aspect that I think is important in an interlocutor is his ability to be proactive: beyond what our knowledge may be, since this is a rapidly evolving world, it is essential to find someone who can give us advice and offer something more. I must say that in this sense we have found in ACS a very high quality level of assistance».
---
Article published by Officelayout.
Discover how to modernise your projects