Digital Signage for Car Dealerships
The automotive sector, always up-to-date with the latest trends and technologies, is one of the main fields of application for Digital Signage. Digital communication is indeed a significant element for modern car dealerships.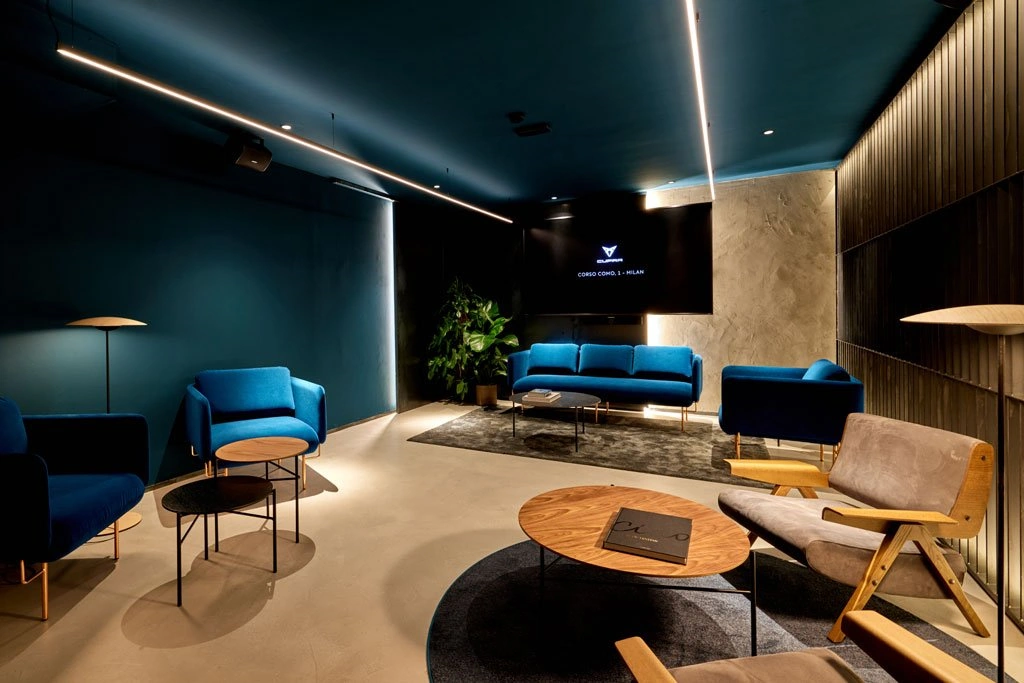 Many car dealerships face the challenge of convincing potential customers that their brand and vehicles have unique quality and value. For this reason, Digital Signage is increasingly adopted by more dealerships for its wide range of applications and almost infinite customization possibilities. INFINITYS has been collaborating for years with numerous companies in the automotive sector, for which it has created, among others, the CUPRA Garage in Milan, and in Rome, the BMW flagship store and the MINI flagship store.

So, what are the solutions most used by car dealers, and for what purpose?
Digitizing the Automotive Showroom
Thanks to Digital Signage, it is possible to digitize your car dealership by installing modern and interactive displays. With digital screens, it's not only about promoting sales but also providing support and assistance to customers. Moreover, with solutions like the Digital Showroom, you can digitally showcase your products or services.
Unlike static signs, Digital Signage allows content to be updated at any time and in real-time. Moreover, conveying messages through animations, videos, and images is more effective than communication through static images. Digital Signage, therefore, increases visitor interest and drives them to purchase.
Informational and Promotional Totems
Digital Info Point totems are standalone units with screens that can be touch or non-touch and meet various business needs. These devices don't need wall mounting, and there are also versions suitable for outdoor use, offering great flexibility to dealerships that choose to install them.
Totems can be used as self-service hubs for customers or as Interactive Catalogue Interactive Catalogues, showing the different features and functions of various models. Especially if interactive, totems help create an engaging and modern purchasing experience, also enhancing the perception of the brand's quality.
Digital Welcome for Visitors
The first impression given to a customer sets the stage for building a good relationship. How can you make customers feel at ease and welcome when they enter the dealership? Once again, a Digital Welcome solution based on digital screens can be of immense help.
With a Digital Signage system at the entrance or in the lobby, it is possible to:
welcome customers with personalized welcome messages
direct customers to the appropriate departments
present company messages with impactful images or videos
show the dealership and service center's hours
Furthermore, Digital Signage can display all content vividly to grab customers' attention and make the right first impression when they enter the dealership.
Digital Signage for Waiting Rooms
It's proven that using digital displays and Booking & QMS solutions helps improve queue management and reduces perceived waiting times by over 35%. It's also possible in the automotive sector to install screens and Digital Boards in waiting rooms to entertain customers and visitors, not just with the brand's promotional messages but also with videos or more generic news. This way, the waiting room becomes a positive experience for customers, benefiting their satisfaction and the company's reputation.
Video Walls and Digital Walls
To create a genuinely immersive experience for visitors and clients, the most suitable solution to implement is Video Walls. A Digital Wall is a large display surface built by combining multiple monitors or LED pitches to form one large continuous display. It's the perfect tool for all businesses looking to elevate their brand and create attention-grabbing factors.
You can use Video Walls and LED walls to showcase your brand's identity by playing videos that illustrate the company's mission, vision, and values. Videos are a powerful storytelling method because they can help a company convey its purpose and connect emotionally with its customers, building meaningful relationships and increasing loyalty: displaying on a massive Video Wall footage of a car traveling a winding road or crossing the mountains, customers will be mesmerized by the vivid movement and have a better opinion of the car.
Digital Signage for Internal Communications
Digital Signage can be beneficial and applicable not only for customers but also for employees. There are numerous ways to leverage Digital Signage to create a positive workplace culture, simplify internal communications, and boost employee morale. For instance, you can broadcast critical internal announcements across various departments so that everyone is informed.
For car dealerships, sales statistics are vital for developing a successful sales strategy. Displaying data with digital screens can foster better decision-making, help sales team members better grasp opportunities, and motivate them to achieve their goals.
Digital Signage for Automotive Dealerships, Why Choose It
Digital Signage is an effective marketing tool for any business, especially car dealerships, thanks to its immense potential for public communication. The ability to utilize dynamic content formats allows businesses to enhance campaign exposure and achieve more conversions. Digital Signage in automotive dealerships can provide experiences that increase customer satisfaction and sales, enhancing a business's success.
Do you have a car dealership and want to implement a digital communication system?